People living with sickle cell disease need to know just how important it is to choose foods that support their health needs. No supplement or superfood can cure sickle cell, but there are micronutrients and high-dose antioxidants that boost blood flow, support energy intake, and reduce the percentage of sickled red cells in the body; making it easier for patients to stay healthy.1
I've always enjoyed cooking traditional Nigerian dishes with a western twist. Afrolems is a dedicated food blog run by a friend of mine that stylizes African food – sharing cooking tips and easy recipes from across the continent. This week, I'm sharing one of my favorite meal recipes for immune support and red cell production.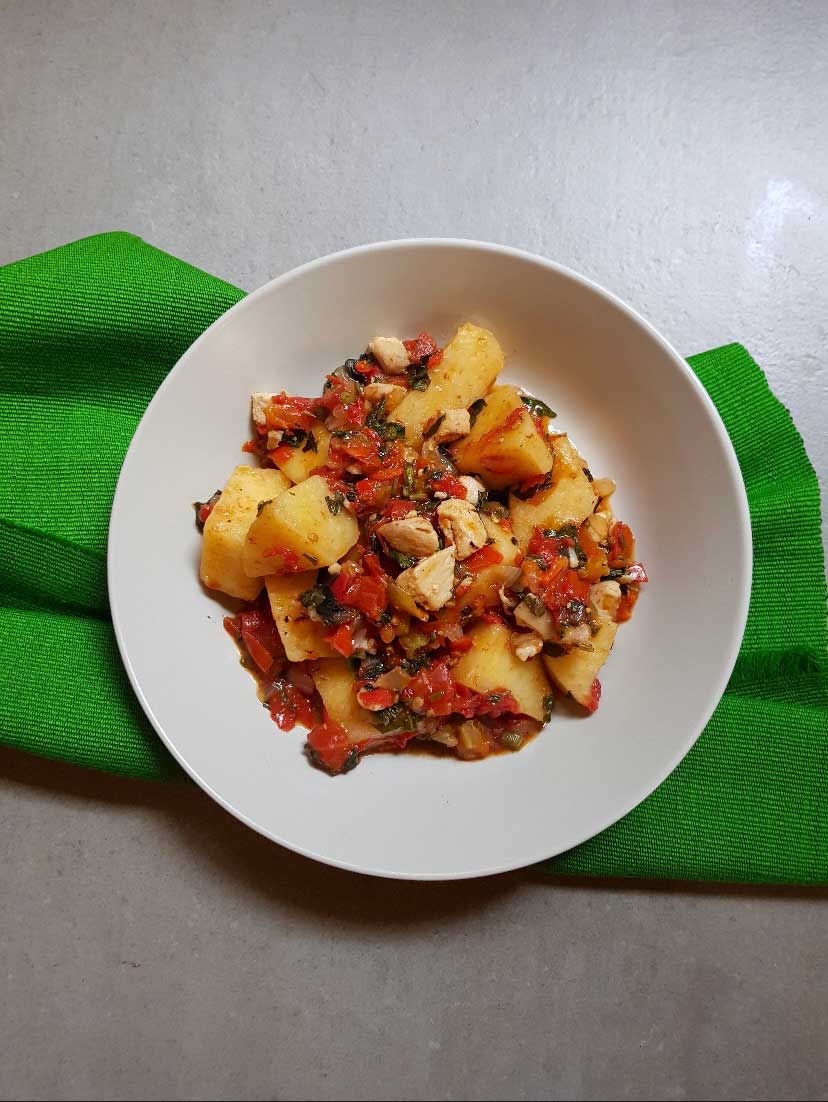 Prep Time: 10 mins | Cook Time: 35 mins
Spice level: Medium to hot
Servings: 2 | Serving size: 3 cups
Ingredients for stewed yams and chicken:
10- 12 small cubes of African yams or sweet potatoes (peeled and chopped)
3 medium Roma tomatoes
2 Red bell peppers or scotch bonnet pepper (optional)
1/2 of an onion bulb (chopped)
2 bouillon cubes or all-purpose seasoning
2 cups of water (for cooking)
2 cups of chopped baby spinach
1/2 cup of chopped chicken (May substitute with non-oily fish)
A pinch of salt
1/2 teaspoon of black pepper
1/2 teaspoon of olive oil
Directions for stewed yams and chicken:
Chop your yams or sweet potatoes into cubes and place in a bowl of water.
Chop your tomatoes, peppers, and onion. Set aside.
Strain the water and place the yams or sweet potatoes in a pot.
Add chopped tomatoes, peppers, and onions.
Sprinkle salt, bouillon cube/all-purpose seasoning. Pour in water and bring to boil.
Allow the yams to cook on low to medium heat for 30 mins. If you prefer sweet potatoes cut into 1-inch cubes, cook at the same temperature for 12 to 15 mins.
In a pan, heat olive oil, season your pre-cut chicken with salt and black pepper.
Stir fry for 3 to 5 mins on low to medium heat. Once the chicken is ready, set it aside.
Check that stewed yams/sweet potatoes are soft and base sauce is thick, then add in your chopped spinach and chicken. Allow to simmer for one minute and turn off heat.
Tips and additional notes:
Do not overcook your green vegetables so they retain their nutrients. 1 to 3 mins is enough cooking time, depending on the quantity.
Red peppers are optional, but you can use a milder pepper (cherry peppers) or a spicier pepper (habanero/scotch bonnet), based on personal preference.
Protein options range from lean chicken to lean turkey, non-oily fish, beef, or eggs.
You can substitute your baby spinach for broccoli or combine both vegetables.
Olive oil can be substituted for coconut oil or regular vegetable oil. Ensure the dish is prepared on medium heat.
Yams can be substituted with mixed potatoes using regular and sweet potatoes.
- Bon Appétit -
Nutrition facts
Per serving
calories: 356
carbohydrate: 55.2 g
cholesterol: 29 mg
dietary fiber: 10.5 g
fat: 10.6 g
potassium: 1937 mg
protein: 13.6 g
sodium: 773 mg
sugars: 14.6 g
Photograph by Wunmi Bakare & Afrolems. All rights reserved. Used with permission.
Disclaimer: Sickle-Cell.com does not provide any express or implied warrant toward the content or outcome of any recipe.

Community Poll
Are you interested in connecting with other sickle cell warriors?