Still Kicking It
Last updated: December 2022
Hello my name is Laura I was diagnosed at 6 months old. I'm an SS. I am 50yrs young with 1 daughter and 1 goddaughter that are both 24.
Complications from a young age
My illness really affected me as a child, and my teenage life was bad. But, as I got older, I had better control and a clearer understanding of my body and signs. I have had plenty of surgeries, both hips replaced, and I am blind in one eye due to complications of my illness. I have had my appendix, gallbladder, and spleen taken out at a very young age. There have been a lot of transfusions over the years and had an iron overload, but with the help of exjade, I beat that and am great now.
My turning point
I started on hydroxyurea in 1998 and it has helped me from needing to be admitted to the hospital every other week or ER visits. Now, I have not had any major complications in 10yrs or being admitted. Don't get me wrong, I was still am having pain, but not as much as I was before it was way milder. The hospital stays dropped and I was able to take control of my life again. I'm still to this day taking the same medication. I have a wonderful support team of doctors and nurses. I'm the driver of my bus and my whole team is with me. My team of doctors values my opinion and they ask me, not tell me, what to do because I take good care of myself and it shows. I follow all orders given after we come to a decision.
How I deal with pain
I love my team...anyway, I practice the all-natural way before I take any pain meds because for me it's all in your head. I know my signs and my body very well and it talks to me. At the top of my list is having a strong spiritual foundation. I do meditation, yoga, hot baths, aromatherapy, praying, massage therapy, and breathing techniques. I do all this and if it gets too bad I will take meds, keep myself well-hydrated, and rest.
My way of life
Stress is one of my triggers for a pain episode. I was told at a very young age I wouldn't see 18. Look I'm 50 and still kicking it and enjoying life. I've had a problem with the thoughts of dying but therapy helped with that and it's healthy to have someone to pour out to in confidence. I spent most of my school years in the hospital and couldn't keep up with my class but I still pressed thru and graduated. I'm a loner and it's cool because I love me so much. The hospital was my second home, now in my adult life home is home honey no more hospital visits as much. I earned the respect of my doctors and now they listen to me kingly when I have a complaint. I take full responsibility for my illness and not letting it take me over. Remember the saying we use to say growing up...I HAVE SICKLE CELL, SICKLE CELL DOES NOT HAVE ME...PERIOD....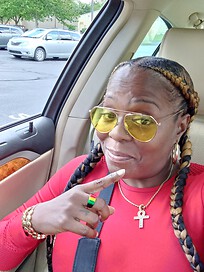 This or That
How old are you?
This article represents the opinions, thoughts, and experiences of the author; none of this content has been paid for by any advertiser. The Sickle-Cell.com team does not recommend or endorse any products or treatments discussed herein. Learn more about how we maintain editorial integrity
here
.

Community Poll
Are you interested in connecting with other sickle cell warriors?