Dee McGowan
Last updated: November 2022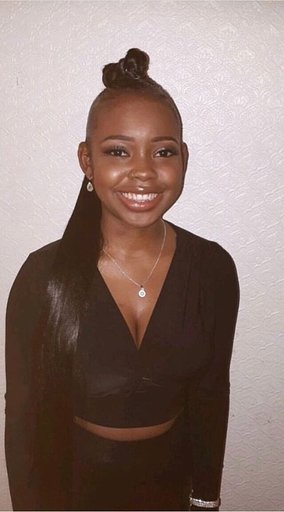 Dee was previously a patient leader on Sickle-Cell.com.
Dee has sickle cell anemia (SC), she was diagnosed with sickle cell anemia at birth and has been a fighter and sickle cell warrior ever since, Dee tries her very best to radiate joy and hope and live a normal life, without allowing sickle cell to consume her. Dee had a very difficult childhood due to her sickle cell anemia. During her childhood she suffered many hospitalizations and sickle cell crises, and often took a lot of time off school or was sent home for being ill, her mum often had the teachers send in work to Dee during her time in hospital so she never fell behind in her studies.
Growing up Dee has always tried her best to jump any obstacles or hurdles that have tried to stop her or get in her way, she has always been very persistent and determined in character. Dee Has always had a love for the arts, and has never allowed sickle cell to get in the way of pursuing her creative dreams and desires, this was strongly reflected in her secondary school options when it came to selecting what GCSE subjects she wanted to specialize in, in which she selected to dance. During her teenage years, Dee fell in love with spoken word poetry after discovering it via YouTube, Dee then went on to study community arts practice during her college years at The Brit School, where she found a love for community work and facilitation. Shortly after her studies at The Brit School Dee moved on to study at the prestigious drama school in central London, The Guildhall School of Music and Drama, where she studied performance and creative enterprise and explored her love for spoken word further, whilst becoming more experimental in her practice and branching off into multi-disciplinary art and cross art ways of working. During her time at Guildhall and outside of her studies Dee established herself more as an artist. Dee has always been very passionate about speaking up via her poetry, but it was only when she started delving more into her personal life and daily experiences outside of current affairs, that she noticed her poetry career really started to take off, from since then Dee has been tapping more so into personal themes that affect her on a day-to-day basis such as her sickle cell and being adopted.
Dee isn't just an artist; she is also an influencer and content creator and has a wide range of interests that spans from events production and cooking to photography and vlogging. She shares her journey on her Instagram page @dialecticdee and all of her other social platforms. It wasn't until during the pandemic that Dee really began to open up on an even wider level about her struggles with sickle cell anemia and how she is balancing both her artistry and health, she decided to use her art and social media platform to speak up and to speak out against the systematic injustices sickle cell warriors face in the UK, around medical exemptions and needing more support and help with health costs associated with sickle cell Anemia, her work quickly started to go viral, and very quickly Dee became labeled as a sickle cell advocate within the community, Dee now proudly claims and honors the title alongside her many others.
Dee aims to inspire others living with sickle cell and show her fellow sickle cell community and warriors that anything is possible and that we are more than the labels that they attach to our community and associate with our condition, we too can chase our dreams and find joy in everyday life. Dee understands the importance of her influence within the sickle cell community and how she can use her art to approach the traditional advocacy route in a slightly different way to raise more awareness and gain more people's attention by making sickle cell more accessible for people to engage with.
Click here to read all of Dee's articles on Sickle-Cell.com